Route Outline
Difficulty
Easy
Synopsis
Just shy of 16km, the Upper Kananaskis Lake Trail is a gorgeous loop that
circumnavigates Upper Kananaskis Lake. I chose this trail for my first solo
overnight hike due to its popularity and shorter distance.
Getting There
The route that I chose was a loop starting and ending at the North Interlakes
parking lot of Upper Kananaskis Lake.
From Calgary, head west on Hwy 1. Take exit 118 for Kananaskis Trail. Follow
signs for the North Interlakes Day Use Area.
Facilities
Outhouses at the parking lot/trailhead.
Pit toilet, bear caches, and picnic tables at Point Backcountry Campground.
Fees/
Permits
A Kananaskis Conservation Pass is required to park your vehicle in Kananaskis
and the Bow Valley.
Backcountry Camping Permit required for the campgrounds along this trail.
---
July 1-3, 2021
Hikers: Katie
---
Trip Report
With uncertainties surrounding work and travel restrictions due to the COVID-19 pandemic, I wasn't able to book this trip as far in advance as I would have liked. Especially with my travel being over the Canada Day long weekend, by the time I went to make my reservations, I didn't have many options. I had wanted to have a longer hike, with 2 nights in the backcountry, but it just wasn't in the cards. I was very lucky to have gotten the last permit for the Point Backcountry Campground for my date!
Day 1:
I had a long drive from Moose Jaw, SK, nearly all the way to Kananaskis, AB, so I packed up my car the night before and hit the road early in the morning. I had a campsite booked at the frontcountry McLean Creek Campground in the McLean Creek Provincial Recreation Area - the closest campsite reservation I could find to my trailhead on the date.
When I arrived, it was immediately evident that I was going to be the only tenter in the campground. Huge RV's and big trucks towing ATV's dominated the area. While I was thankful to have been able to get a campsite reservation at all, I couldn't wait to get onto the trail and have a bit more peace & solitude the following day. I set up my tent and then pulled out my guitar to play for a bit before making dinner and heading to bed.
Day 2:
I packed my tent and sleeping system, kitchen, and other necessities into my Osprey Viva 65L pack and put the busy campground behind me. I drove the nearly 2h to the very busy North Interlakes Parking Lot at Upper Kananaskis Lake. I excitedly stepped out of the car, strapped on my pack, and unfolded my hiking poles. After a quick check of the map and notice board at the trailhead, I started on my way.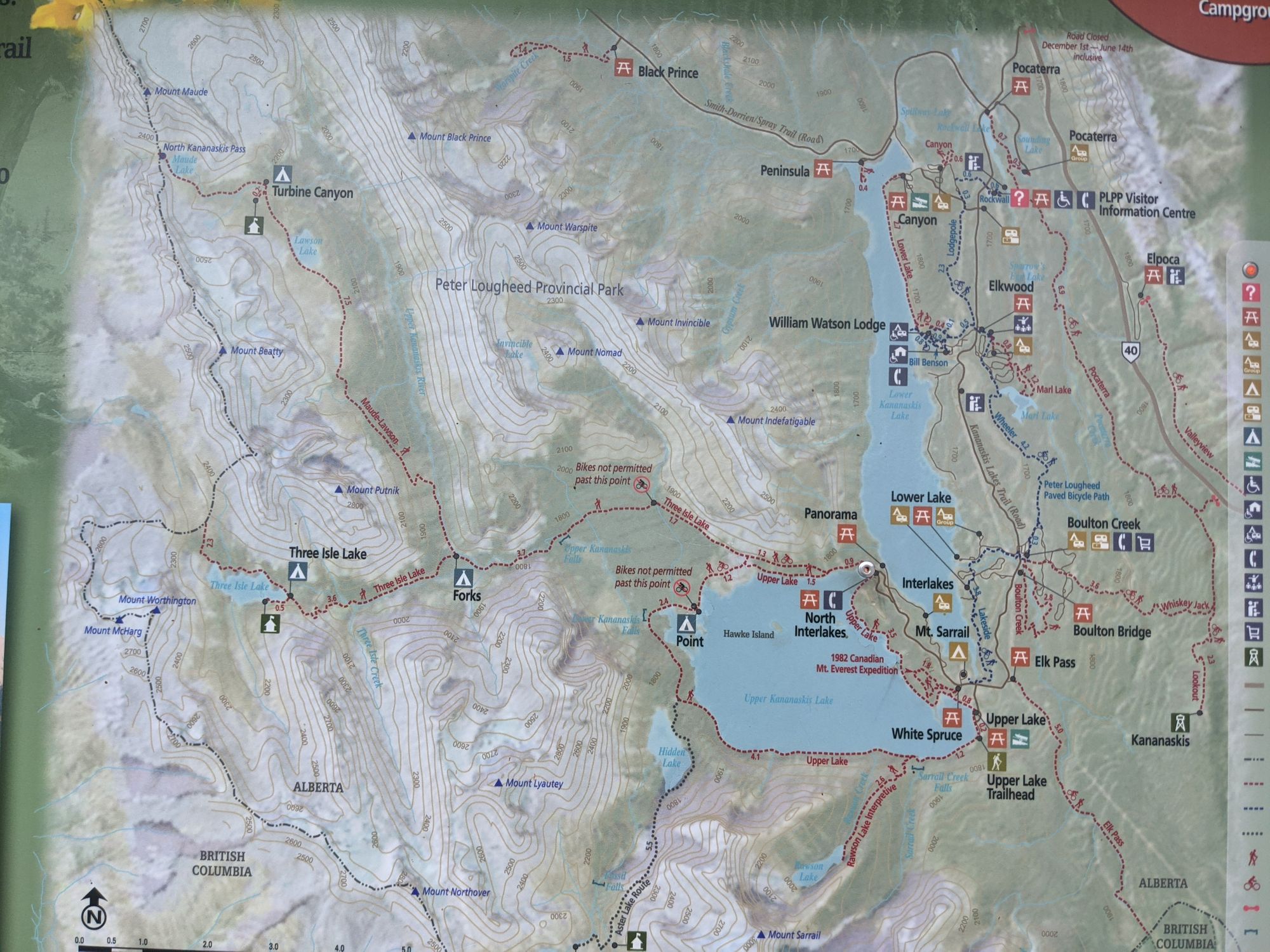 I had a pretty short hike in to my campsite - the Point Backcountry Campground - at only 3.6 km. As I walked, I passed a few groups of day-hikers but I was mostly on my own. When I arrived at the campsite area, I wandered down the trail past a number of tent pads, trying to decide where I should make my camp for the night. A lovely woman with two kids was just packing up and told me that her spot had one of the best views, if I wanted to wait a few minutes and take it over once they left. I happily agreed and we chatted about the area while she finished packing up.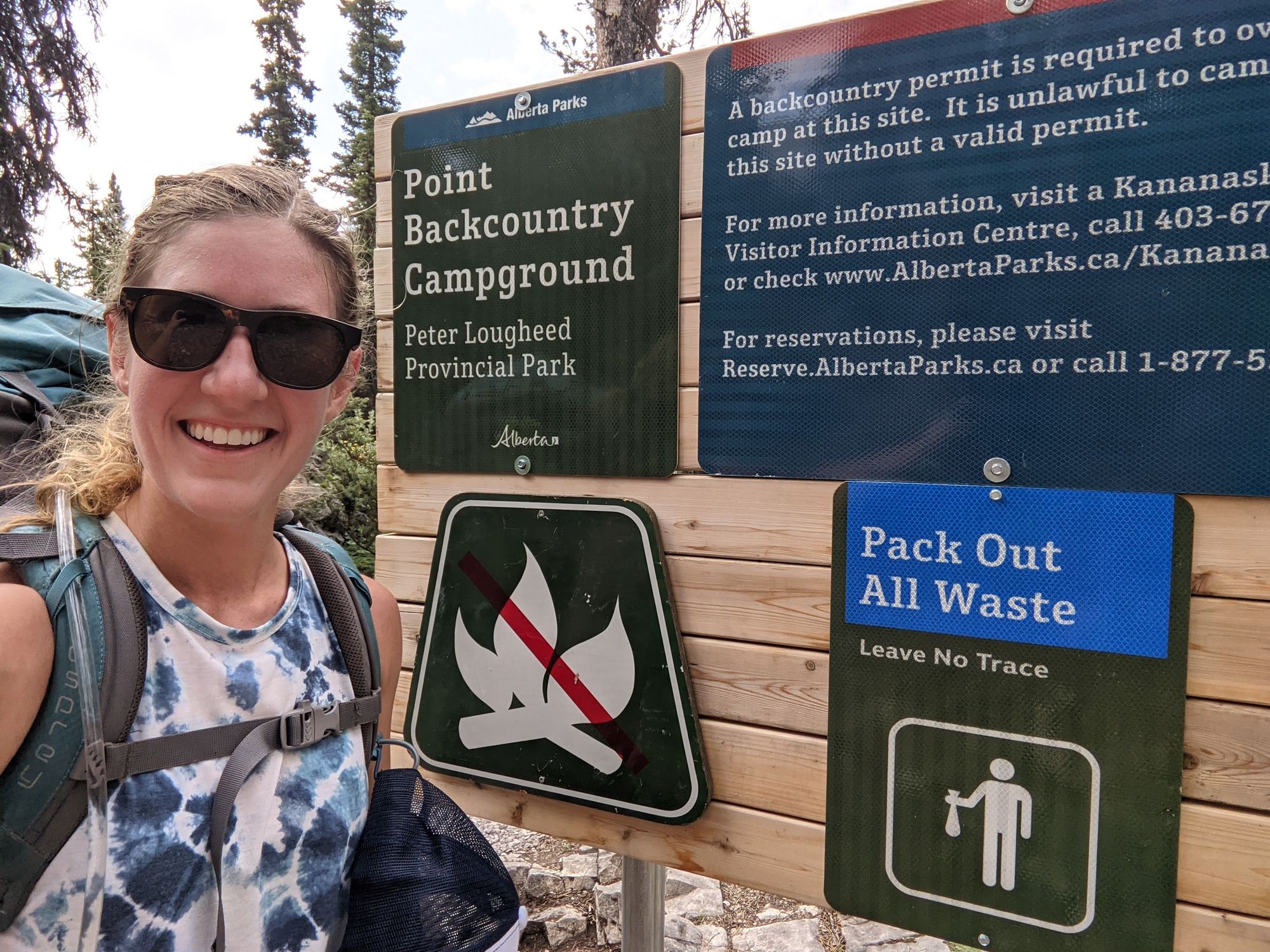 After setting up my tent and having a snack, I re-packed my water, first aid kit, bear spray, and some snacks into my day pack and set off to find some waterfalls. From Point I had planned to hike a further 9.9 km one way to Three Isle Lake but as the trail began to climb, so the temperature rose, too, and I decided to cut my day a little short. I made it as far as Upper Kananaskis Falls before turning around and heading back to camp.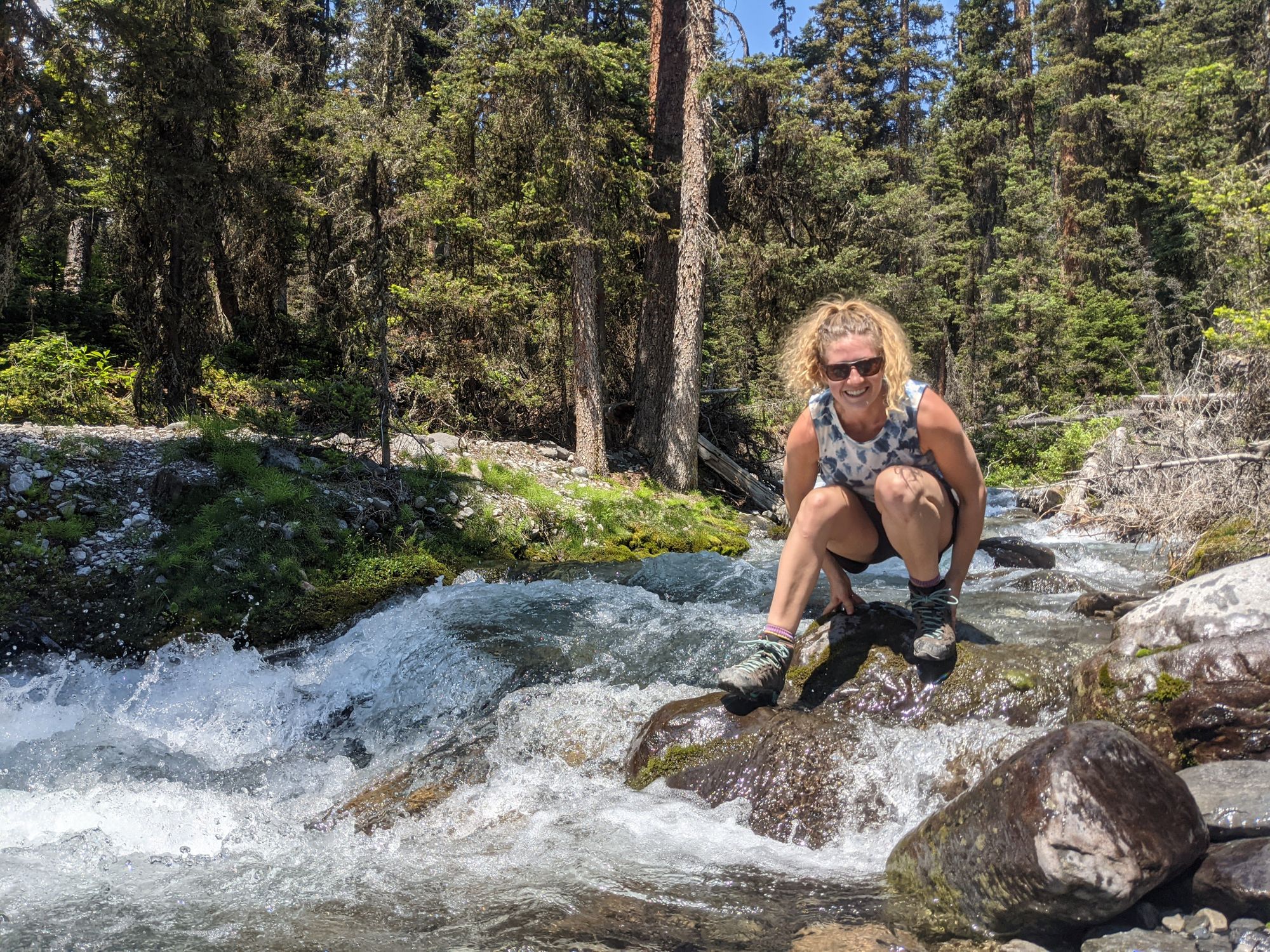 Once I got back to camp, I spent the rest of the afternoon relaxing, reading, and writing songs. While I was hanging out, a beautiful doe deer came up right next to my tent and started munching away on some greenery. Some rain on the far side of the lake cleared and a rainbow formed. It was an incredible, peaceful afternoon.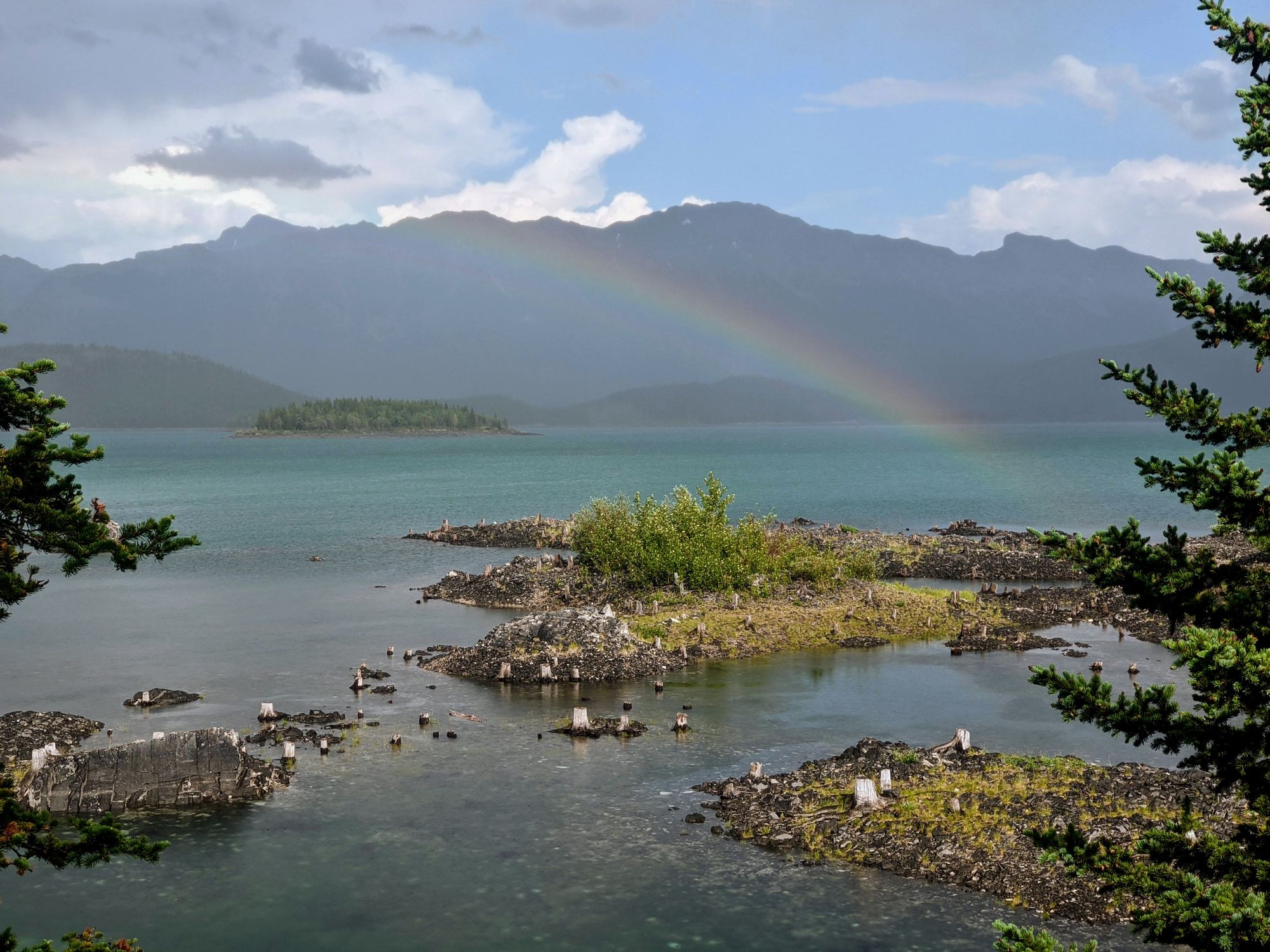 Right around when I wanted to eat dinner, it started to rain. Of course a tarp was the one thing I didn't have with me on this trip... I walked from my tent site over to the communal cooking area where the bear caches and picnic tables are. Luckily for me, there was a small group eating there that had strung up a tarp over one of the tables, so I was able to sit with them and have a mostly dry meal. After dinner I spent the evening reading in my tent.
Day 3:
Thankfully things dried out overnight and I didn't have to pack up a wet tent in the morning. After having an oatmeal breakfast and packing up, I hit the trail to complete my loop around Upper Kananaskis Lake. This was the long day: I had a 12.3 km hike out. At least by this point I had eaten most of my food and didn't have to carry that anymore.
The majority of this day was very quiet; I hardly saw anyone else on the trail for the first 6 km or so. Other than being slightly paranoid about bears and yelling out into the void every so often, I loved it.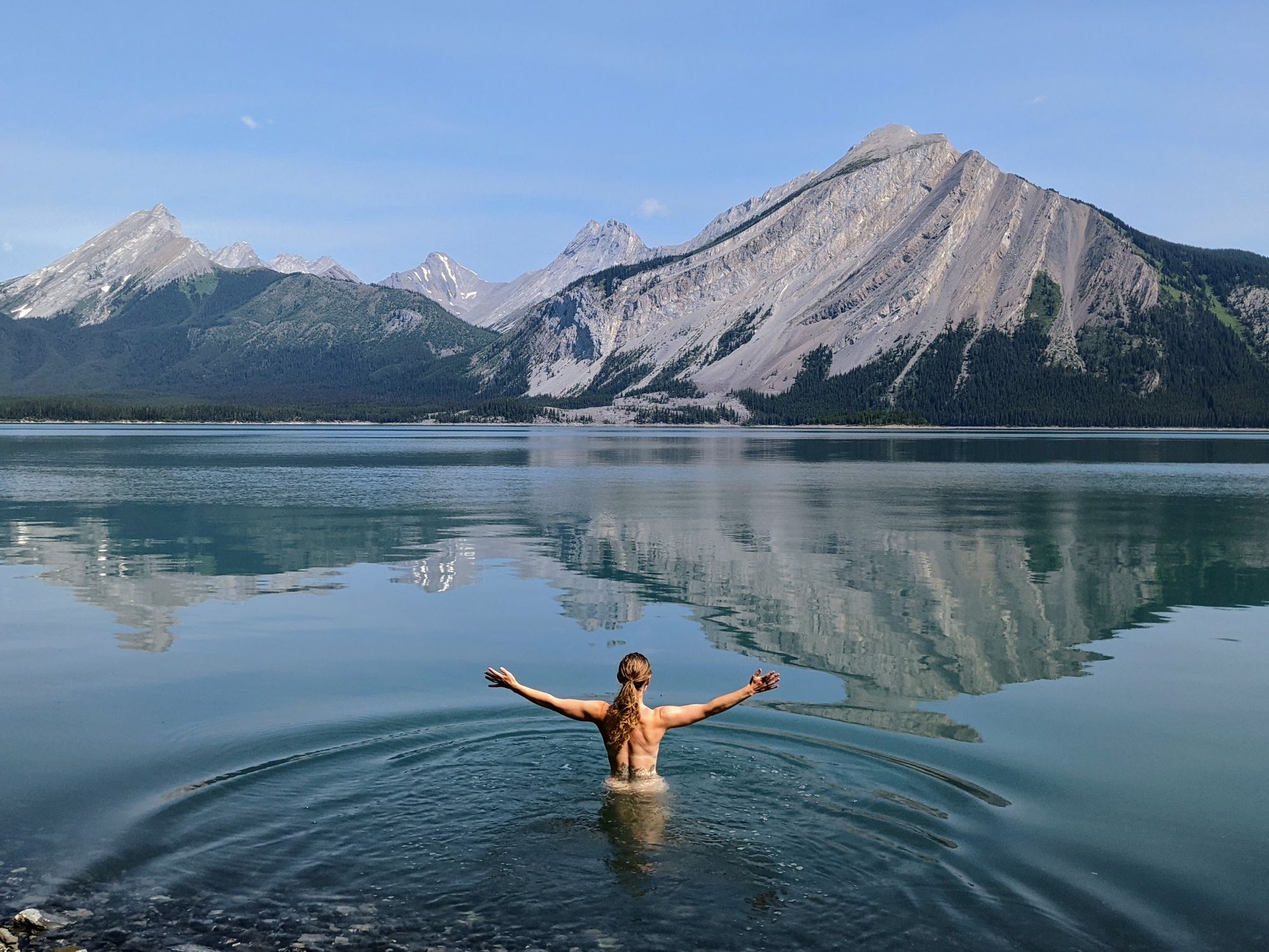 Then the vibe of the trail changed very abruptly. I started to see tons of day hikers, some in sandals, most without any pack or water at all. I was getting close to the Upper Lake Day Use Area. The busyness continued as I drew closer to the main beach and parking lot. I decided to step off the trail for a snack and a short rest on a rocky beach area that looked much less crowded than the main beach still ahead of me. I also needed to check on a hot spot on my heel that I had been too stubborn to stop for earlier.
Rested and re-energized, and with my blister taped up, I carried on past the masses of people just out to enjoy a day at the beach. Once I was a little ways past the beach and parking lot, the trail quieted down again, though not quite to how it had been in the morning. I thought that I must almost be back to the trailhead at this point, but after looking at my map I saw that I still had another 4 km to go. The tape I'd put on my blister earlier was certainly not holding, and I was quite ready to just take off my boots already.
As I hiked the last few kilometers of the trail, I noticed that the area seemed to be quite smoky. I wanted to keep my phone on airplane mode for the duration of my hike, so I wasn't able to check where the wildfire smoke was coming from.
Eventually, I made it back to the parking lot where I started, and a lovely family was kind enough to take a photo for me at the trail sign. Success!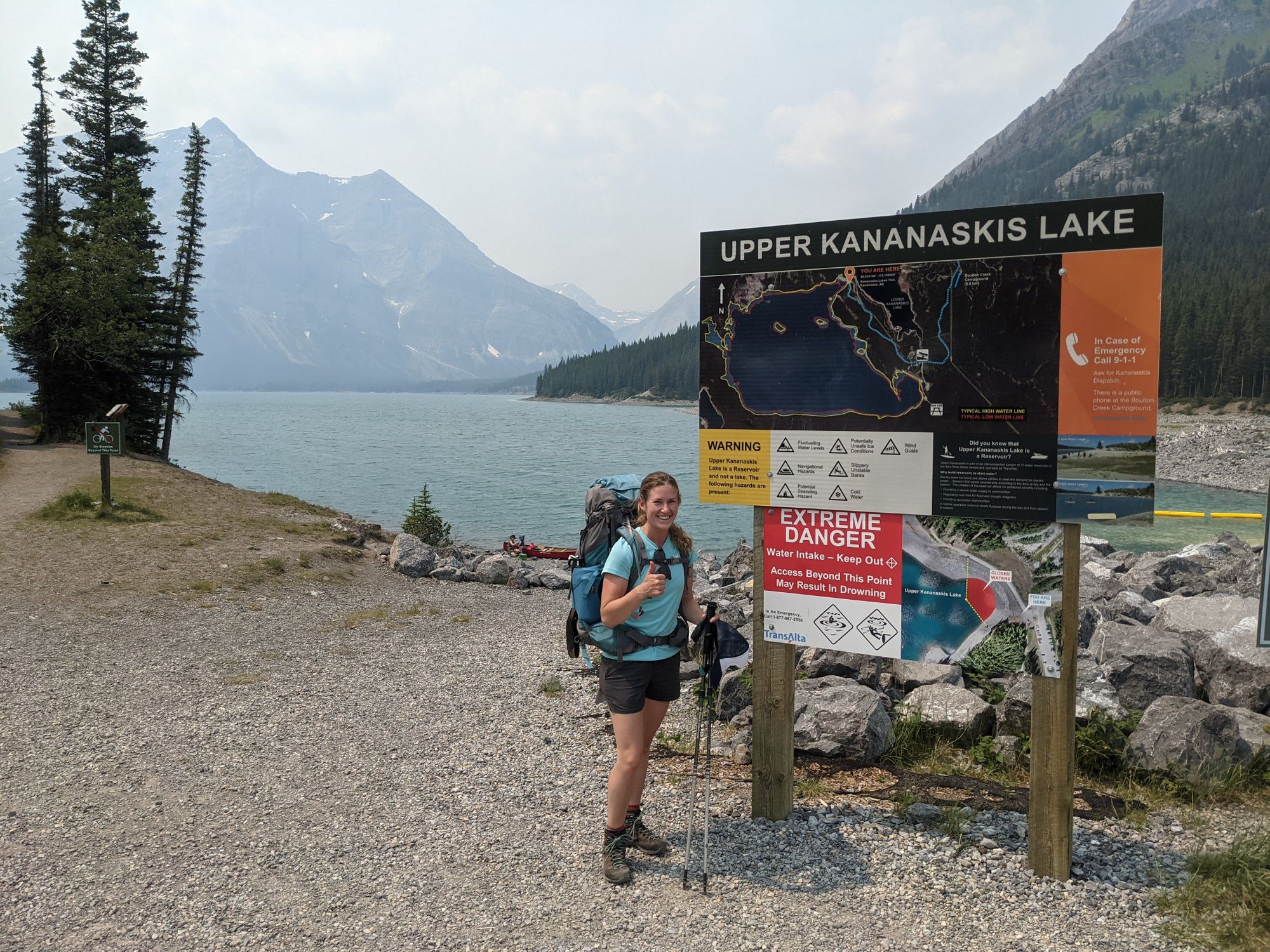 Things I Learned:
Always pack a tarp. Especially if you have one that's super lightweight and small. It's never not worth it.
Don't be afraid or ashamed of needing to take a pause if something isn't right with your gear. You don't need to put pressure on yourself to keep going because "I only just started." The last few km of my hike would have been a lot more enjoyable if I had just stopped right away when I first felt the hot spot forming on my heel.
Listen to your gut. I'm referring to my first day of hiking, after I set up my tent and wanted to hike another 20km (what was I thinking?). I didn't have enough water with me to safely hike that distance at the current temperature (high 20's *C), and I'm glad I made the call to turn around and head back to camp when I did.
I absolutely want to do more solo backpacking trips!